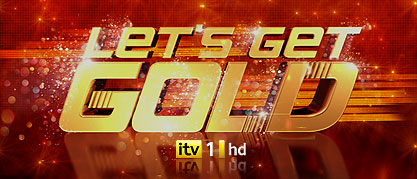 VERNON KAY LETS GET GOLD - ITV1hd
***Confirmed judges are RIO FERDINAND, FREEDIE FLINTOFF, UNA HEALY & MARTINE McCUTCHEON!***
JUST IN! Let's Get Gold is ITV1's MASSIVE NEW PRIME TIME SHOW where sport meets entertainment!
Incredible sporting teams from all across the UK will battle it out in front of you, the live studio audience and a panel of top celebrity judges from the worlds of showbusiness and sport.
Over three nights, 15 teams will compete to transform their sport into the most spectacular and entertaining routine. Teams will be putting their skills to the test, performing breath-taking activities and games to demonstrate their sporting prowess.
Motivated by a £100,000 prize fund – and judged by a panel of two sporting legends and two heroes from the world of entertainment - the show will seek to identify amateur and professional groups displaying the best technique, skill and athleticism, but also those with creativity, style and flair.
The show is presented by ITV1 host Vernon Kaye, alongside four celebrity judges from the sporting and entertainment world.
BOOK YOUR FREE TICKETS RIGHT NOW FOR THIS INCREDIBLE SHOW!!!
............................................................................

VERY IMPORTANT: Applause Store operates a completely free ticket service. However, it has been brought to our attention that some people have been selling/advertising our free tickets on various web sites including Ebay. We take this matter very seriously. Anyone found to be selling their ticket allocation will instantly make them void and may also face formal proceedings against them. If you have bought or know anyone advertising our free tickets for sale, we would like to hear from you.

Booking Now
We are currently taking bookings for this show. Please note: if we do not have availability for your chosen date, then we will do our very best to offer you an alternative. If you do not hear from us within 10 days of your chosen show date, then your ticket application has not been successful.
Show Dates |

PLEASE SELECT A DATE
Age Limit | 18+
Dress Code | RELAXED & CASUAL
Location | FOUNTAIN STUDIOS, WEMBLEY HA9
Remember - All of our audience tickets are free, exclusive to Applause Store and not available on any other website, or through any other company.