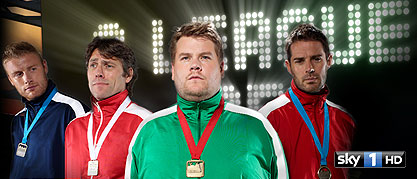 A LEAGUE OF THEIR OWN 2013 - SKY1
BOOKINGS NOW OPEN to be at this HIT fast-paced comedy panel show with the focus on sport.
Featuring some of the biggest names in comedy and sport including Freddie Flintoff, Jamie Rednapp and Jack Whitehall, each team will tackle questions on the major stories as well as uncovering the quirkier side of our national obsession. Further enlivened by a series of physical challenges!
"A League of Their Own" is guaranteed to provide laughter and entertainment for sports fans and lovers of comedy!
.............................................................................
VERY IMPORTANT: Applause Store operates a completely free ticket service. However, it has been brought to our attention that some people have been selling/advertising our free tickets on various web sites including Ebay. We take this matter very seriously. Anyone found to be selling their ticket allocation will instantly make them void and may also face formal proceedings against them. If you have bought or know anyone advertising our free tickets for sale, we would like to hear from you.
Booking Now
We are currently taking bookings for this show. Please note: if we do not have availability for your chosen date, then we will do our very best to offer you an alternative. If you do not hear from us within 10 days of your chosen show date, then your ticket application has not been successful.
Show Dates |

PLEASE SELECT A DATE
Age Limit | 18+
Dress Code | RELAXED & CASUAL
Location | BBC ELSTREE STUDIOS, BOREHAMWOOD WD6 1NN
Remember - All of our audience tickets are free, exclusive to Applause Store and not available on any other website, or through any other company.