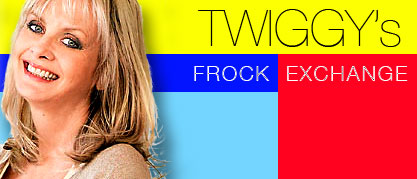 TWIGGY'S FROCK EXCHANGE - BBC
We have been allocated a very limited amount of exclusive free tickets to this 'closed' rehearsal of TWIGGY's brand new BBC 2 fashion show! We are looking for women of all ages to bring two outfits and have a fab afternoon out with Twiggy herself!
FREE WINE SERVED UPON ARRIVAL!

So where can a girl go to get a brand new look without spending a penny?

Frock Exchange is a new 3 part series for BBC2 which taps into the latest trend for clothes swapping parties. So many of us have wardrobes full of decent clobber that we never wear so what better than to get rid of the old stuff and replace it with new, all for free?

In the age of disposable style and the credit crunch there is a growing desire to spend less and ease our environmental consciences, whilst still having fun with fashion.

From Primark to Prada, vintage to Versace, each week Twiggy and her team of experts will host a party inviting high profile celebrities and up to a hundred women to swap clothes and accessories with each other. Partygoers will get fashion advice to help them make the perfect swap and styling, hair and make-up to ensure they leave looking and feeling a million dollars.

Part event, part factual, Fashion Trade is every girl's dream show packed full of beautiful clothes, amazing transformations, human interest stories, gorgeous information rich VTs and a practical guide to styling and customising clothes across all ages and bodyshapes.
PLEASE NOTE: ALTHOUGH THIS IS A REHEARSAL FOR THE MAIN SHOW ITSELF, WE WILL BE FILMING IT AS A COMPLETE SHOW.
Booking Now
We are currently taking bookings for this show. Please note: if we do not have availability for your chosen date, then we will do our very best to offer you an alternative. If you do not hear from us within 10 days of your chosen show date, then your ticket application has not been successful.
Show Dates |

PLEASE SELECT A DATE
Age Limit | 18+
Dress Code | RELAXED & CASUAL - PLEASE BRING A 2ND OUTFIT WITH YOU!
Location | RIVERSIDE STUDIOS, HAMMERSMITH W6
Remember - All of our audience tickets are free, exclusive to Applause Store and not available on any other website, or through any other company.