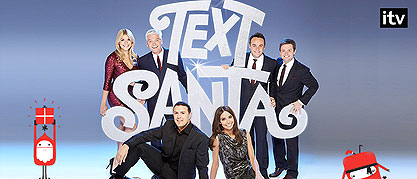 TEXT SANTA - ITV1
JUST IN! WE ARE SO EXCITED ABOUT THIS YEARS TEXT SANTA!!!

You are exclusively invited to be part of the live studio audience for this year's TEXT SANTA, the Christmas charity spectacular for ITV1 with Ant & Dec, Phillip Schofield, Holly Willoughby, Christine Bleakley and Paddy McGuinness.

Packed full of non-stop fun and entertainment with some of ITV's biggest stars and shows taking part, this is a night you just don't want to miss!!!!

Come and join us and be a part of the fun and festivities!

............................................................................
VERY IMPORTANT: Applause Store operates a completely free ticket service. However, it has been brought to our attention that some people have been selling/advertising our free tickets on various web sites including Ebay. We take this matter very seriously. Anyone found to be selling their ticket allocation will instantly make them void and may also face formal proceedings against them. If you have bought or know anyone advertising our free tickets for sale, we would like to hear from you.
Coming Soon
We will be releasing more information about this show very soon. In the mean time you are invited to register below and we will contact you once we have more details.
Remember - All of our audience tickets are free, exclusive to Applause Store and not available on any other website, or through any other company.