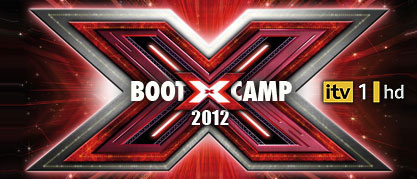 THE X FACTOR BOOTCAMP 2012 - ITV1
DATE JUST IN!!!
For only the 3rd time in it's history, The X Factor is once again opening it's doors to this years Boot Camp in LIVERPOOL and YOU are invited to join all the judges to help them find out who really does have the X factor 2012!
The X Factor is the true daddy of all talent competitions and we are really, REALLY excited to be able to offer you EXCLUSIVE tickets to this amazing Boot Camp recording!
THIS IS AMAZING PRIME-TIME ITV1 ENTERTAINMENT AT ITS VERY BEST!
.............................................................................
Applause Store is the ONLY OFFICIAL TICKET UNIT to handle The X Factor Boot Camp and studio audience tickets which are always FREE. Please do not pay for or buy tickets via online auctions or 'days out' sites as these are counterfeit and will NOT gain you access into the studio. All of our tickets are security bar coded and checked upon arrival.
Coming Soon
We will be releasing more information about this show very soon. In the mean time you are invited to register below and we will contact you once we have more details.
Remember - All of our audience tickets are free, exclusive to Applause Store and not available on any other website, or through any other company.