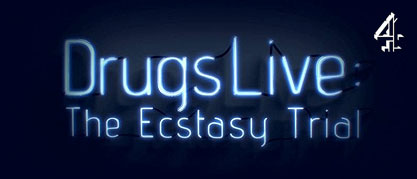 DRUGS LIVE - CHANNEL 4
JOIN RESERVE LIST NOW FOR THE NEXT INSTALLMENT OF DRUGS LIVE
'Drugs Live: The MDMA Trial' will, for the first time ever, provide viewers with unmediated access to a live drug trial involving MDMA – the first of its kind in the UK.
Using groundbreaking science, viewers will witness the effects MDMA has on the brain and get a front row seat to this pioneering and compelling science as it unfolds.
The Volunteers involved in the trial, including a female vicar, a former MP, an ex-SAS soldier, actor Keith Allen and award-winning author Lionel Shriver ('We Need To Talk About Kevin"), will help us finally understand this controversial drug as they undergo state of the art brain scans whilst under the influence of MDMA.
These two LIVE Channel 4 Specials, hosted by eminent broadcaster and Channel 4 news anchor Jon Snow and Dr. Christian Jessen, will be broadcast at the end of September and will feature a live studio debate covering a wide range of views on the issues surrounding the Class A drug and will include scientists, police, politicians and campaigners, as well as members of the public such as you.
Do you have experience of this drug and an opinion on this? If so, why don't you join us in the studio audience in London? This could be your opportunity to have your say on this important and contentious subject.
Place your name on our Reserve List now and we will email you more show details as soon as they are confirmed.
.............................................................................
VERY IMPORTANT: Applause Store operates a completely free ticket service. However, it has been brought to our attention that some people have been selling/advertising our free tickets on various web sites including Ebay. We take this matter very seriously. Anyone found to be selling their ticket allocation will instantly make them void and may also face formal proceedings against them. If you have bought or know anyone advertising our free tickets for sale, we would like to hear from you.
Coming Soon
We will be releasing more information about this show very soon. In the mean time you are invited to register below and we will contact you once we have more details.
Remember - All of our audience tickets are free, exclusive to Applause Store and not available on any other website, or through any other company.