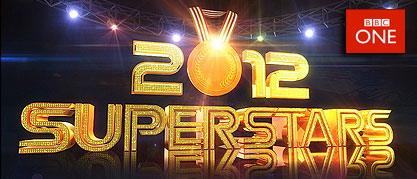 SUPERSTARS - BBC
RESERVE LIST OPEN FOR 2013!
August 2012 and the world watched enthralled as Olympic athletes from around the planet battled for supremacy in their individual sports. The nation came together as never before and Team GB did us all proud winning an unprecedented 65 medals.
Now 16 British Olympic heroes come face to face in dramatic and thrilling competition, recreating that Olympic experience. Olympic Superstars is a 90-minute television spectacular where eight men and eight women will revive those indelible summer memories, as they compete across eight very different sporting disciplines to discover who are the two best all-round Olympic Superstars.
.............................................................................

VERY IMPORTANT: Applause Store operates a completely free ticket service. However, it has been brought to our attention that some people have been selling/advertising our free tickets on various web sites including Ebay. We take this matter very seriously. Anyone found to be selling their ticket allocation will instantly make them void and may also face formal proceedings against them. If you have bought or know anyone advertising our free tickets for sale, we would like to hear from you.

Coming Soon
We will be releasing more information about this show very soon. In the mean time you are invited to register below and we will contact you once we have more details.
Remember - All of our audience tickets are free, exclusive to Applause Store and not available on any other website, or through any other company.